Submitted by

AlanMcGuinness

on 21 November 2009 - 7:37pm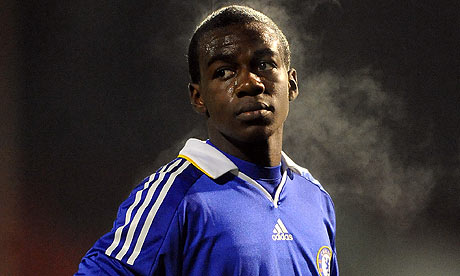 Over the last few months Gael Kakuta has been in the headlines for all the wrong reasons.
The precocious 18-year-old was banned for four months by Fifa in September as a result of his move to West London in 2007 from French side Lens.
It was the first time many people had heard of him. But for keen followers of Chelsea the buzz surrounding the Frenchman has been apparent and burgeoning long before Fifa's Dispute Resolution Chamber sanctioned him. And it seemed as if that ban would delay his inevitable breakthrough into the Chelsea first team.
That was until the Court of Arbitration for Sport suspended the ban, pending a final decision on the case.
This turn of events, combined with the Blues' injury problems – the likes of Michael Ballack, Deco, Didier Drogba and Frank Lampard are all currently out of action – to present Kakuta with his big chance against Wolves at Stamford Bridge this afternoon.
And he grabbed it with both hands.
Those massed inside the stadium gave the youngster a thunderous reception as he took to the pitch, and he soon showed them what he could do.
His first action was to leave his defender for dead with a lightning quick turn and shot that had fans up off their seats.
Kakuta proceeded to display all of the attributes you would want in a winger – an eye for goal as well as a pass, the ability to deliver a telling cross and pace in abundance.
It was reminiscent of Arjen Robben's debut for Chelsea against Blackburn in 2004, and some will be tempted to compare the two.
The cameo in Chelsea's 4-0 win will undoubtedly leave Carlo Ancelotti beaming with delight. The Italian was gushing with his praise for him in the build up to today's game.
"At that age I have never seen a player with his talent," said Ancelotti.
"Technically he is fantastic. He is a No10, like Joe Cole or Deco. Physically he is not yet strong enough to be a first-team regular but technically he is certainly ready to come on [as a substitute].
"He can be a big player for Chelsea with his quality, and his character is very good too."
That is heady praise indeed, and it will increase the pressure on the youngster's shoulders.
After today's performance people will sit up and take note. The question is, will he kick on from here and make this the start of something special?
Ancelotti will have to ensure he manages Kakuta carefully. Plenty of youngsters have shown early promise before fading away into obscurity. For a case in point Ancelotti doesn't have to look very far.
Scott Sinclair had many Blues fans purring with his displays for their youth and reserve sides not so long ago but he failed to make the step up and is currently out on loan yet again.
If Ancelotti gets it right with Kakuta, however, he could have quite a player on his hands.
Gael Kakuta seizes his chance to shine for Chelsea