Submitted by

AlanMcGuinness

on 4 April 2010 - 6:32pm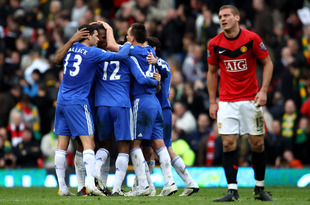 Sky Sports' fondness of hype is an inescapable part of the modern Premier League title race.
With David Haye fighting John Ruiz in Manchester on the same day and the fight being shown on Sky Box Office, the broadcaster was almost contractually obliged to adopt a fight theme for their coverage of Manchester United v Chelsea.
Indeed, I did wonder if I was watching the fight instead of one of the biggest football matches of the season, such was the amount of fighting talk.
In the red corner we had Manchester United, the league leaders and 18 times champions. In the blue corner was the challenger, Chelsea, with three league titles to their name.
Regardless of what you think of such hyperbole, I will extend such talk, as it provides a fitting summary of events at Old Trafford yesterday afternoon: The Blues' 2-1 win was the equivalent of a sucker punch, not the knockout blow that was envisaged in the run up to kick off.
Chelsea made a fantastic start to match and it was little surprise that they got the first goal. Joe Cole showed a glimpse of his old form when he flicked in a cross from the once-again superb Florent Malouda.
United started the second half by far the better side but just lacked a cutting edge up front. Dimitar Berbatov was subdued and impressed only in flashes. The vision and verve of Wayne Rooney was clearly missed.
What was also clear was that Chelsea's winner, scored by Didier Drogba, was offside. How the linesman didn't spot it is a mystery. Carlo Ancelotti won't care a jot. That decision could have won Chelsea their first league title since 2006.
Emphasis on the word could.
This year's title race has had a number of twists and turns, and one result could change everything once again.
Chelsea appeared to be out of the running after their 1-1 draw against Blackburn Rovers. That was less than two weeks ago. Now they are the favourites.
Chelsea's remaining five games contain two potential banana skins that could yet see the Premier League trophy stay at Old Trafford for a record fourth year in a row.
Tottenham, who Chelsea play on 17th April, have made quite a habit of ending their London rivals' title ambitions in recent years.
In 2008 a frustrating 4-4 draw virtually put paid to such ambitions, and a 1-0 defeat last season - the only loss of Guus Hiddink's reign - had a similar effect.
Under the guidance of Harry Redknapp, Spurs have continued to improve and look like a good bet for fourth place. A repeat of the 3-0 Chelsea win at Stamford Bridge back in September doesn't seem likely.
The last away game of Chelsea's campaign is at Liverpool, who will want to end a disappointing season on a high. Manchester United have left Anfield empty handed, and Chelsea could do the same.
Carlo Ancelotti will know this.
Speaking after yesterday's win he preached caution. "We are favourites but nothing has been decided," he said.
"We have to maintain focus and composure.
"There are more possibilities for us, more possibilities than Manchester United. But we are happy to win here. It is very important for our confidence."
Ferguson, floored by yesterday's result, could yet emerge victorious.
Manchester United 1-2 Chelsea: A sucker punch, but not a knockout blow