Submitted by

AlanMcGuinness

on 2 April 2010 - 9:32pm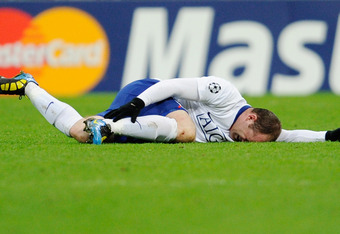 If Chelsea were looking for a boost ahead of their crucial clash with Manchester United this weekend, they got it in Munich on Tuesday.
Wayne Rooney's awkward landing towards the end of his side's 2-1 defeat to Bayern Munich simultaneously had England and United fans praying and Chelsea fans breathing a sigh of relief.
Rooney has been by far and away United's best player this season. His record in front of goal is frightening: 34 goals in 37 games.
Many have suggested that Rooney's absence will be keenly felt, but Chelsea manager Carlo Ancelotti is having none of that.
"Sometimes a team can give more than 100 percent when a very important player is out," he said ahead of the game at Old Trafford tomorrow.
He added: "They have the experience and the players to support the loss of Rooney."
It seems easy to label United a one-man team, both this season and when Cristiano Ronaldo was in such scintillating form during his time at the club.
However, such dogmatic assertions will carry no currency whatsoever at Cobham.
Manchester United are not a one-man team, and they have sufficient strength to take big steps towards a fourth successive Premier League title on Saturday.
Dimitar Berbatov has found some form and United's defence is nearly back to full strength.
The key area of the pitch will be the wings.
If Nani can put on a display similar to that against Arsenal in January he could cause Yuri Zhirkov real problems. The Russian is enjoying an extended run in the team due to Ashley Cole's injury, and while he has dazzled going forward, no more so than against Aston Villa last weekend, defensively he looks suspect.
Similarly, Paulo Ferreira isn't Chelsea's best right back. The defensive injury crisis that has claimed Jose Bosingwa and Branislav Ivanovic affords him a starting berth when normally he wouldn't be in the match day squad.
Sir Alex Ferguson should look to exploit this potential weakness.
Ancelotti, his opposite number, will be hoping that the form his side has displayed in their last two outings (5-0 away to Portsmouth and 7-1 to Aston Villa) is the start of a turnaround, and not some kind of freak occurrence.
When Chelsea are on-song they can appear to be nigh on unstoppable. Both Aston Villa and Sunderland have had seven put past them by the Blues this season, and if you want goals, Stamford Bridge is the place to go.
It is worth noting that both of the aforementioned results came when Didier Drogba, who is expected to start tomorrow, wasn't on the pitch.
His presence in the air can prove to be both a blessing and a curse. When he is spearheading the Chelsea attack the temptation is to just lump the ball up to him in the knowledge that he will win the lion's share of any aerial battle he goes into.
On many ocassions this has proved to be devastatingly effective. A case in point of this approach failing came when Chelsea exited the Champions League at the hands of former manager Jose Mourinho's Inter Milan.
Endless long balls were played upfield and they were ably dealt with by the Inter defence.
If Rio Ferdinand and Nemanja Vidic are clearly winning this battle at Old Trafford then a change of approach will be needed. Ancelotti should revert to the passing game that has served his team so well this season.
A win for Chelsea will of course give them the advantage as we enter the dying throes of a remarkable season.
Tricky encounters away to Tottenham and Liverpool will follow, but the euphoria of beating the reigning champions on their pitch could carry the Blues towards a first league title in four years.
A defeat may prove terminal. Such is the pivot on which the destination of the Premier League title rests.
Manchester United still have the ammunition to end Chelsea's title dream